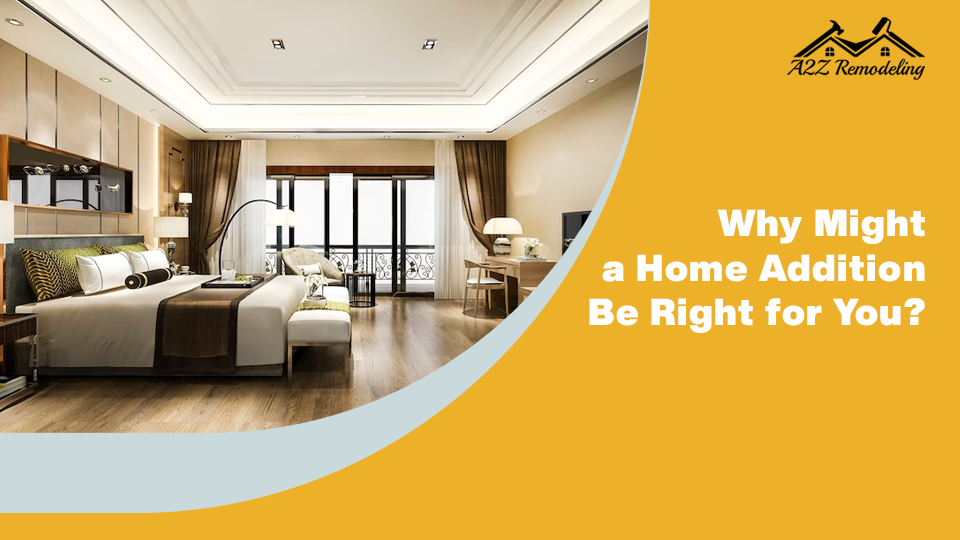 Do you need more space? Do you feel cramped in your current home? If so, a home
addition may be fitting for you. Home additions can provide many benefits, including
more living space, improved functionality, and increased property value. We will
discuss some reasons why you should consider adding to your home!
1) More Living Space
One of the best reasons to hire remodeling contractors, for a home addition is to
gain more living space. If your family has grown, or you need additional square
footage for entertaining or hobbies, an extra room or two can be invaluable. Home
additions add functional space and aesthetic value to any property.
For example, if you are a family of four with two children and one bathroom, you may
need to add an extra bedroom and bathroom to accommodate everyone's needs. Or,
if you want to create a comfortable recreational area for entertaining guests, a home
addition can transform your basement or attic into a cozy space.
2) Increased Home Value and Resale Potential
When you choose luxury home remodeling in a home addition or extension can
significantly raise your property's value. Home additions, including second stories
and additional rooms, are great investments in equity and aesthetics. If you decide to
sell your home in the future, potential buyers will be more likely to be interested
because of the added living space.
Also, you can recoup the additional costs of home addition or extension when you
sell your home. The money invested in a top-notch remodel could pay off
handsomely, should you choose to move.
3) Aging Parents Are Moving in
As most of us start to get older and our parents age, more and more families have to
make the tough decision of either moving in with aging parents or having them move
in. With a home addition or extension, you can create an inviting space for your
elderly loved ones while maintaining their independence. This is often less expensive
than other options and is a great way to keep your home in the family for
generations.
4) You Need More Space for Hobbies or Crafts
For the creative types, having extra space dedicated to hobbies can be a dream
come true. Whether you want a dedicated craft room or an art studio, a home addition
or extension can give you the space to indulge in your hobbies. Depending on the
size of the area you're creating, a home addition may also be necessary for installing
special equipment such as kilns or presses.
Final Words
Call A2Z Remodeling for the best advice and help when considering a home
addition or extension. Our team of experts will take the time to discuss your needs
and goals, ensuring that any project meets your budget requirements and desired
outcome. We are committed to providing quality workmanship and professional
services so you can transform your existing house into the home of your dreams.