Decks are a highly sought-after addition to any Edmond home, and for good reason! With a deck, you can not only add functional living space to your home, but you can also increase its beauty and design.
But choosing the right deck and deck contractor is not easy. There are dozens of options to choose from when building your deck. That's why working with an experienced deck construction company is so important!
The knowledgeable team at A2Z Remodeling is ready to help you get the deck you've always dreamed of. Read on to learn more about our deck-building service.
The Benefits of a Deck Addition
Adding a deck to your home has many important benefits such as:
Outdoor Living Space – Adding indoor living space is extremely expensive, and not always feasible based on your current layout. A deck addition is an easy and affordable way to get a ton of usable outdoor living space. A deck extends your living space, giving you the perfect spot for barbeques, family dinners, evening drinks, and just enjoying the beautiful Oklahoma summer.
Additional Storage Space – Thinking about also adding a shed? You may not even need to! Most homeowners aren't aware of the massive storage space a deck can bring you. By enclosing the space beneath your elevated deck, you create hidden storage space. If you choose to insulate the space, it can be perfect for holiday decorations. Either way, decks add a ton of useful storage that you can use for anything from yard equipment to craft supplies.
Increase Your Property Value – It's no secret, many homebuyers love to see a deck. While your deck is an investment, it's one that pays off by boosting your property value. Adding a deck is one of the most cost-effective ways to increase the value of your property and appeal to future buyers.
Design – Deck additions are functional in many ways, but they also add aesthetic value to your home. A beautiful deck amplifies the design and structure of your home. With so many customizable options available, it's easy to create the perfect deck for your design preferences.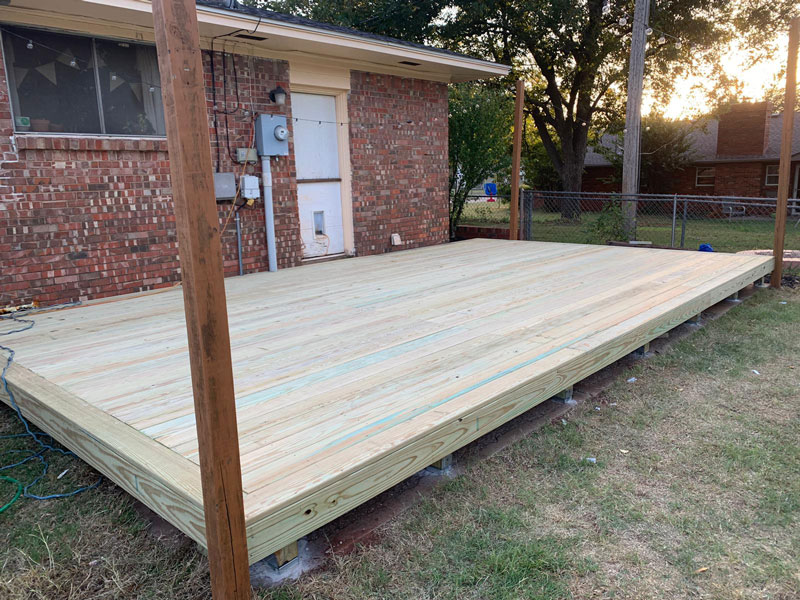 A2Z Deck Builders in Edmond
A knowledgeable contractor is vital for getting the deck you've always wanted. Our experienced team at A2Z Remodeling can work with wood or composite to create the perfect deck addition for your Edmond home.
With years of experience in Edmond deck building, we have what it takes to help you with your deck addition. We've already helped so many happy Edmond residents get the decks they've always wanted, and we can't wait to help you. Our dedicated team works with you every step of the way to bring your vision to life.
With A2Z deck builders in Edmond, you can count on high-quality deck design and installation. Every single job we do meets all community and state requirements. We adhere to the industry's best practices to create long-lasting, stunning decks. Now is the perfect time to get the outdoor space you've always dreamed of with the help of our deck-building experts. Contact us to learn more about our deck addition services today.