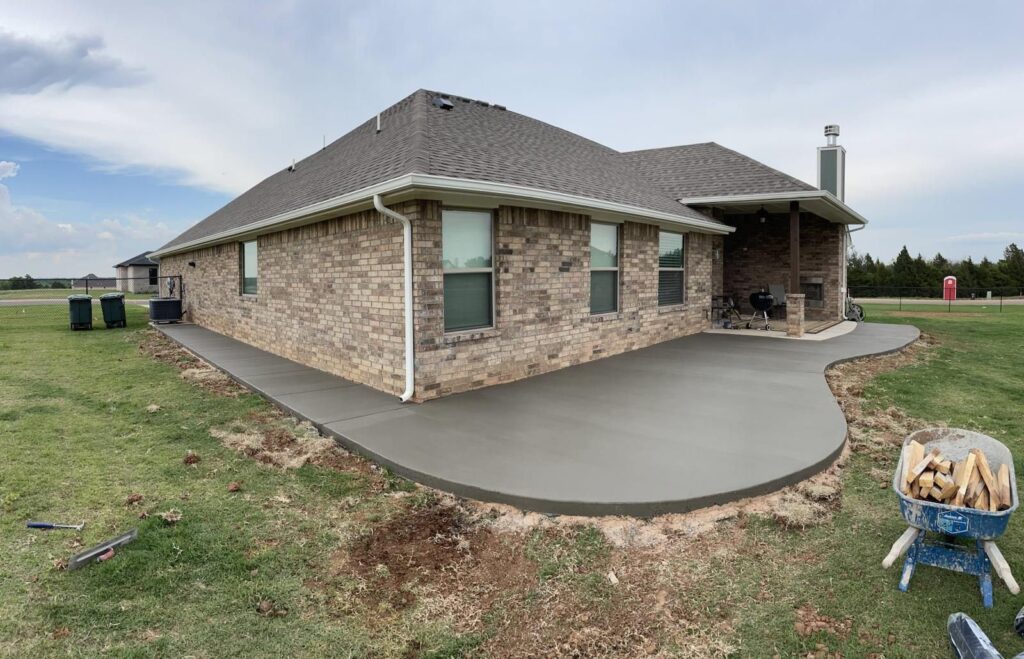 Concrete Sidewalks
It takes an Oklahoma local to know that the common clay ground in Oklahoma can cause several problems with concrete sidewalks. As an Oklahoma owned and operated company, we have an abundance of experience working with the Oklahoma clay and temperature changes. We can examine your concrete sidewalk to determine if it needs repair, and we can also install your brand new sidewalk. Choose a custom sidewalk created from a solid color or a unique design with or without patterns. We pour the strongest sidewalks, reinforced onto a compacted base of gravel or sand. Increase the value of your home and get the aesthetics you've always wanted with a fresh concrete sidewalk.
Stamped Concrete
Transform your driveway, sidewalk, walkway, or patio with a stamped concrete makeover. Stamped concrete will improve the look of your concrete so it resembles unique bricks, stones, or another custom design. Freshen up your concrete and give it a brand new look with stamped concrete. We'll give you the perfect concrete look for your home and style, transforming your concrete exactly how you want. We add expansion joints with the pattern to ensure it's crack-free and durable.
Concrete Patios
Concrete patios are a durable, stylish option for any Oklahoma yard. They provide the perfect outdoor entertainment space for cookouts, parties, and gatherings while also offering durability and easy maintenance. Our expert designers at A2Z Remodeling will transform your concrete patio dreams into reality in no time. Select the pattern, style, shapes, and colors that match your home and style when designing your patio. Then, leave it to use to create your stamped concrete patio, pattern finish, or smooth finish patio.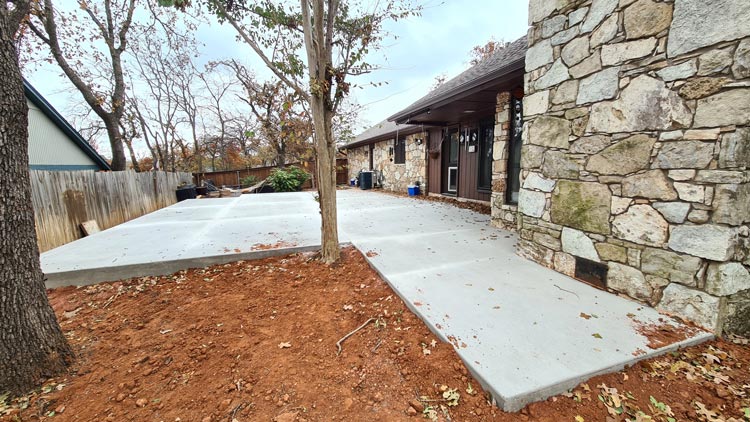 Patterned Concrete Designs
Patterns are a simple, yet effective way to transform the look of your concrete. We can add a myriad of different colors, textures, imprints, and patterns based on your desires to create a brand new concrete look. With the patterned concrete designs, your concrete will soon have a unique brick or stone look. Spruce up the look of your concrete, so it matches your home and style.
Concrete-Cement Coloring
When most people picture concrete, they imagine one slate-grey color, but concrete can look completely different based on its color. Too many Oklahoma homeowners are hesitant to use concrete because they have a different color palette in mind. The team at A2Z Remodeling can change the color of the concrete to perfectly match your preferences. Our experienced team can transform the look of concrete with concrete cement coloring.
Concrete Resurfacing
Damaged concrete is an eyesore, and you may think your only option is to pay thousands to start over. However, many Oklahoma homeowners can benefit from concrete resurfacing. Concrete resurfacing is adding a thin cement overlay over existing concrete to create a new, smooth surface. When the resurfacing dries, it becomes even stronger and more durable, preserving your existing concrete. At A2Z Remodeling, we can often resurface existing concrete with a regular, decorative, or stamped finish!
Parking Lots and Paving
Parking lots and paving roadways must be able to stand up to enormous pressure and traffic, which is why it's so important to hire an expert for your parking lot and roadway paving needs. There' no better choice than the team at A2Z Remodeling. Our team can handle all of your parking lot and paving needs, and we work with you to ensure you get the finished product you're looking for as soon as possible.
Foundations
The foundation is a crucial part of any structure. A properly laid foundation ensures the building will be durable for many years to come. However, properly laying a foundation in Oklahoma requires having an in-depth understanding of the clay-based soil and harsh weather conditions. The local team at A2Z Remodeling has decades of experience laying foundations in the OKC and Edmond area, and we take all of the necessary steps to ensure the ground can handle the concrete weight and pressure. We handle every step of the foundation process to create strong, durable foundations that can handle the harsh Oklahoma climate.
Concrete Curbs
"Curb appeal" is about more than your property, the actual quality and aesthetics of curbs have an effect on safety and appearance as well. Building quality curbs that are appealing and long-lasting is a challenging craft that our team at A2Z Remodeling has nailed down. We use only the best materials and techniques to build durable, beautiful cubs.
Water Proofing
When water gets into the concrete work around your home, it can be a disaster. Understandably, Oklahoma homeowners and business owners want to ensure they have waterproof concrete that can prevent leaking. When you work with A2Z Remodeling, you can count on decades of experience in the OKC and Edmond area. We use the best concrete mixture to ensure adequate waterproofing. With our concrete services, you don't need to worry about water leaking through your concrete. We'll also share the best practices with you regarding soil grading to help protect your foundation.
Concrete Driveways
The knowledgeable team at A2Z Remodeling is highly experienced in concrete services including concrete driveways. We ensure you get the concrete driveway that suits your home and needs. We offer unparalleled concrete driveway services, ensuring you receive a concrete driveway that fits your needs and lasts for many years to come. We use only the best products and methods to lay and reinforce your driveway so it can withstand the pressure and traffic it will encounter. Get the custom driveway of your dreams from A2Z Remodeling!