Adding a deck to your Oklahoma City home is an excellent way to increase the appearance and functionality of your property. When building a deck, there are so many options to choose from. To ensure you get the best deck for your property, it's essential to work with an experienced deck construction company.
Learn more about how our knowledgeable team at A2Z Remodeling can help you get the deck of your dreams!
Reasons to Add a Deck to Your Home
There are many great benefits to adding a deck to your home. Here are some of the best reasons to consider a deck addition:
Increase Property Value – One of the biggest ways bonuses of adding a deck is the boost in property value. Decks add usable outdoor space that homebuyers absolutely love. A deck addition is certainly an investment, but it's one that will pay off by increasing your property value for a limited cost per square foot.
Add Living Space – You won't have to wait until you sell to see the great benefits of adding a deck. A deck addition is also a usable outdoor space that you and your family can enjoy now. Adding indoor living space is very expensive and not always practical, but extending your living space with a deck is a great way to enjoy the beautiful Oklahoma summers.
Aesthetics – There's no denying the beauty of an expertly crafted deck. Decks can be customized to suit your personal style and preferences. You can design the perfect deck for your home, selecting the stain color, structure, materials, and accessories that will increase the functionality and beauty of your home.
Storage Space – Most homeowners envision their new deck as a place for entertaining and enjoying the gorgeous summer days. There's no doubt about the outdoor living space a deck provides, but it also offers another key benefit: storage space. One of the vastly underestimated benefits of a deck is additional storage space. You can enclose the space beneath an elevated deck to store anything from outdoor equipment to holiday decorations.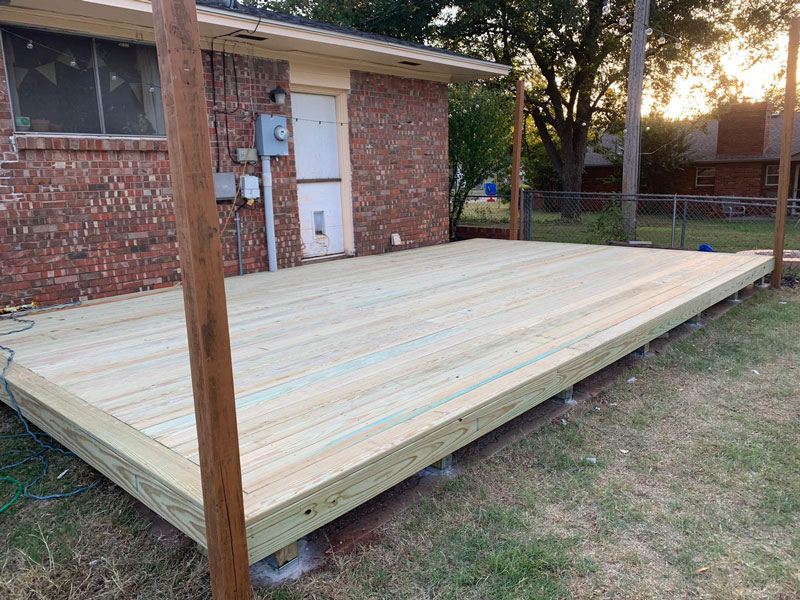 A2Z Remodeling Deck Construction
Whether you're considering a wood or composite deck, it's imperative to work with a knowledgeable contractor. At A2Z Remodeling, we can work with all designs and materials to build a stunning deck addition for your Oklahoma City home.
Our team has a wealth of remodeling experience with both interior and exterior jobs. Custom backyard decks are one of our specialties. We've helped many OKC residents get the decks of their dreams, and we can't wait to help you! Our dedicated team works closely with you to craft the perfect deck for your home.
You can count on our remodeling experts to build high-quality decks that meet all OKC codes and requirements. We follow only the best industry standards to create durable, long-lasting decks. A deck addition is a part of creating a dream backyard. For the perfect outdoor living space, hidden storage, and home value booster, start building your deck today. Contact A2Z Remodeling today!